I was excited to get the opportunity to review the Thin Stix Creativity Pack from The Pencil Grip, Inc. with its neon and 'metalix' colors. This package gives you all the tools you need to have wonderful art sessions with the whole family. The Thin Stix are perfect for youngsters but even teenagers and adults can use them with fantastic results.
What comes in a package of Thin Stix Creativity Pack will surprise you.
The Thin Stix Creativity Pack comes with 24 different Thin Stix in 12 classic, 6 neon, and 6 metalix colors.
12 Classic Colors: white, brown, black, deep purple, light purple, royal blue, dark green, light green, pink, orange, red, and yellow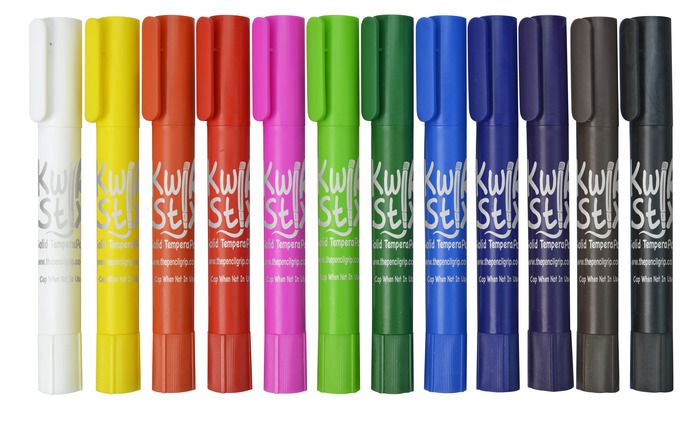 6
Neon Colors
: pink, green, light blue, dark blue, orange, yellow
6
Metalix Colors
: gold, silver, purple, blue, green, magenta
The Thin Stix Creativity Pack is great for all ages.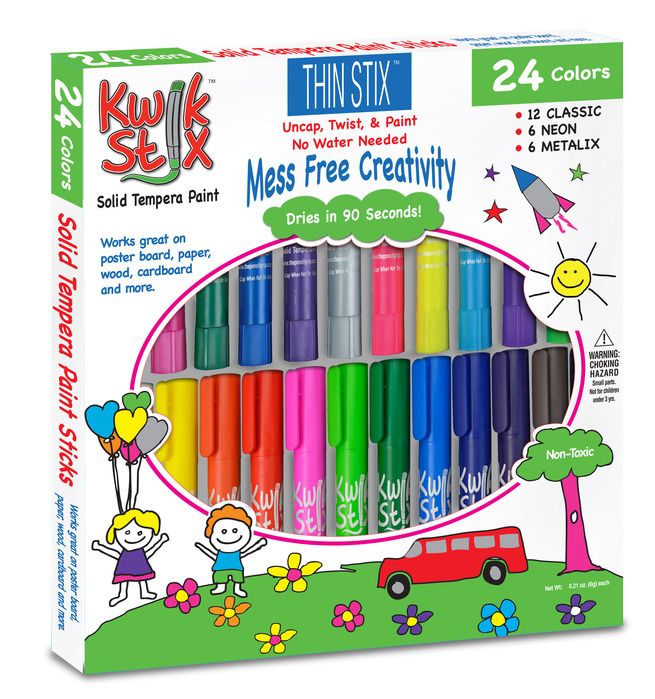 I love that these Thin Stix come are opaque solid tempera paint so you can paint on a variety of materials with bright colorful results. They take less than 90 seconds to dry so these are great painting tools when you have creative and impatient children, like I do. If my kids were young I would love using these Thin Stix on car trips or in the living room or any place that I would be nervous about letting children paint. Thin Stix are paint in a stick that you uncap, twist to rotate the paint stick up, and paint away! You don't need water, or paper towels, or clean up!
My kids and I worked our imaginations and came up with some fun ways you could use the Thin Stix Creativity Pack.
We came up with some fun seasonal ideas.
Halloween Painted Wood Die Cuts
My teenage daughter got some wood die cuts from the craft store and painted them in spooky and scary colors for Halloween. She applied the Thin Stix paint first and then used wet paper towel pieces to smudge and paint and blend the colors. She really liked using the metallic colors to make a shiny mirror-like finish on the largest piece.
Felt Christmas Ornaments
If you are like me, then you introduced your children to the fun that is decorating felt shapes to make ornaments for the Christmas tree when they were youngsters. I did it with my kids when they were little using glue and glitter, but it would have been wonderful had we also used Thin Stix! We tried a few cutout shapes of snowy trees and a manger and discovered that Thin Stix are wonderful for coloring and decorating felt! It takes the paint a little bit longer to dry on felt (maybe 2-3 minutes instead of 90 seconds) but the results are great! I could see doing this with toddlers and younger children for all the holidays!
Homemade Christmas Cards
We make our Christmas cards every year. It gives my children a chance to be creative and an opportunity to think about the people they are making cards for. And for the relatives and friends we send card to, it is a chance for them to receive a card handmade with love and care by a child they know.
Looking for more ideas?
The Pencil Grip, Inc.has a blog with lots of great craft projects you can try with your Thin Stix Creativity Pack:  http://handwritingathome.blogspot.com
And, you can click through below to all the other wonderful reviews of the Thin Stix Creativity Pack my friends at the Homeschool Review Crew did!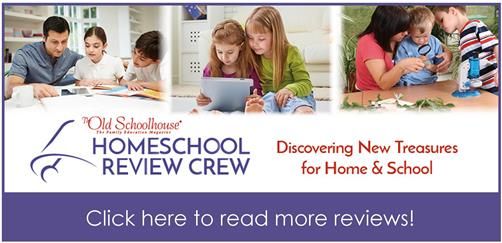 What are some of your favorite kid-related art projects?
Feel Free to Share with Your Friends!