The marine biology course I took as a teenager changed the course of my life, and so I was beyond excited when we got the opportunity to review the Marine Biology 2nd Edition Advantage Set (including the Marine Biology 2nd Edition Audio CD) from Apologia Educational Ministries. My daughter loves all things marine science – from the wonderful and strange marine creatures, to the oceanography and ecosystems.
This review was a dream come true for my daughter. In fact, she loves the course so much that she is taking extra time with each section and each module in the course, exploring additional related books and materials so that she can get as much as she possibly can from the course. The readings stimulate her to think about new relationships and she comes up with additional experiments that she plans out and executes. What better endorsement of a curriculum could you ask for? (especially when you consider that she is dyslexic and reading is usually a chore for her that ends in a headache – if you are wondering what Apologia Educational Ministries did to make this accessible to dyslexics, just read through my review!)
Clear & Logical Course Progression With 18 Modules In The Course That Take Your Teen From The Geography Through The Marine Life And End With The Ecosystems
The course begins with a study of oceanography so that your student will understand the general world within which all marine life lives. Then the next six modules focus on the animals and plants that live in the ocean. After learning about the types of creatures that inhabit our oceans, the next phase is to study the ecology of marine worlds and the various zones (intertidal, estuaries, coral reefs, the continental shelf, epipelagic, and the deep ocean). The course finishes by examining ocean resources and the effects of humans.
Before you think, "Oh no, not that 'humans are destroying the world' stuff again," be assured that even these sections are focused wholly on the concept that God created the world and its creatures for man to make use of. The discussion in the text is reasonable and rational and doesn't stray anywhere near the type of hysteria you find in college textbooks or newspapers or plastered across social media that places the value of animals above that of mankind. This textbook is fully aligned with the values of Christians, but given that it comes from Apologia, that is not surprise.
Audio Textbook on CD is a Hidden Gem
Apologia Educational Ministries has created an audio textbook of the Marine Biology course (the Marine Biology 2nd Edition Audio CD). The entire text book has been turned into a MP3 Audio Book. For audio learners this is wonderful! Reading an upper division high school text can be difficult for many teens who struggle with dyslexia or reading comprehension or ability to focus for longer periods.
MP3 Audio Book Divided Into Sections That Match Modules and Module Headings
Each learning module is divided into sections that match the headings in the text. This makes each section only 5 to 10 minutes, a perfect length for an MP3 file.
The narrator reads the text in an upbeat and engaging manner. My daughter listened to a few of the lessons and decided to save them for module reviews and when she has trouble understanding the text.
Homeschooling Moms Can Use The MP3 Audio Book To Keep Up
I used the audio text, loaded onto my Kindle Fire to go through the lessons at the same time that she did. That way when she has trouble understanding I can help her. Also I feel that it is important to know what she learns, even when she is using a great product like Marine Biology from Apologia Educational Ministries.
If I am going to be writing up her high school course outlines and transcripts and college applications, I really want to know what she learned and not just record grades and copy descriptions. This audio CD is such a help for me to do exactly that.
You Can Listen To The MP3 Audio Book With Many Devices, Including iPods and Kindle Fire Tablets
There are many options for how you listen to the audio textbook. Apologia Educational Ministries provides the audio as a series of MP3 files on the CD. You can play the audio files directly off the CD in a music CD player or a computer's CD player. You can also load the files into your iTunes library and load them onto an iPod. I discovered you can also very easily load the MP3 files onto a Kindle Fire tablet. In an age of portable electronics, this is a wonderful feature.
MP3 Audio Book Can Be Used To Reinforce Lessons, or To Learn Material While Traveling
You could use this CD as a way to reinforce lessons your teen has read, or as a review at the end of the module before taking each Module test. Your teen could also listen to the textbook audio during long car rides, or while exercising or doing chores about the house.
Solutions Manual Includes Text Answers and Test Keys
The Solutions Manual includes the answers to every question posed in the textbook as well as answers to the module tests. There is a pull out Test pamphlet as well that contains all the module and quarterly tests.
The "Before you Begin" section of the Solutions Manual is written for the parent and explains the overall theory and focus of the course as a Christ-centered study of marine biology. This section also guides a parent to decide when to administer tests, how to incorporate the "On Your Own" questions that are in the textbook, an overview of the grading process, an suggestions for administering the course.
Student Notebook Includes Parent Notes To Help you understand course layout and Grade the Whole Course.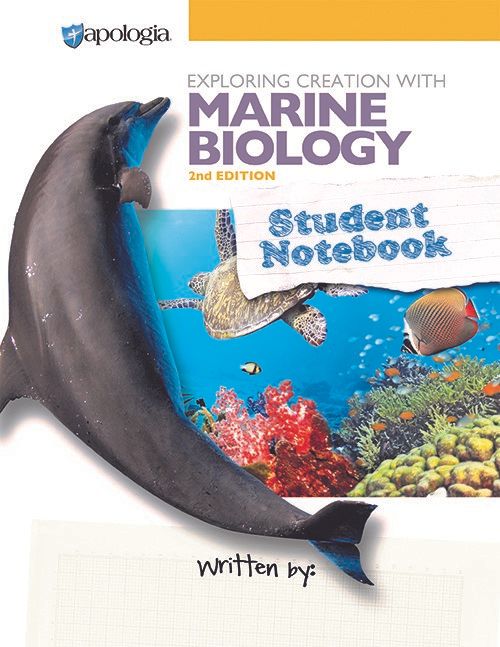 This section is laid out very, very clearly so that you can easily assign points to each section of a lab report, and weight the experiments and tests to assign grades to each module in the course and to the course overall.
There is even a set of tables so you can record the grades right in the student notebook, which becomes the complete record of your student's learning and progress in the course – and it is wire bound so you won't lose any pages!
There is also a suggested daily schedule for the course in the Student Notebook that takes your student on a 33-34 week adventure through Marine Biology, designed to be studied approximately 45 minutes a day, 5 days a week. Some days are spent reading, others taking tests or doing experiments.
Student Workbook Aids Teens To Develop and Extend Their Ability To Concentrate and Focus With Layers and Layers of Learning
Overall, the Student Notebook is half lab reports and half module notes. There is a section for each of the 16 modules which includes note pages as well as a recapitulation of the "On Your Own Questions" that are in the text book within each module section so your student can write out the answers as she comes upon them in the textbook. This part of the workbook also includes study guide questions for each module that help your student review new vocabulary, practice identifying anatomical structures, and answer some more complex questions related to the module content. And finally there is an optional summary of each module that is designed as a fill-in-the-blank section. There is also an "I Think About This" section that allows your student to make personal notes about the content in each section.
How We Used The Experiments – We Added More!
My daughter is a creative soul who is always full of questions. She decided to add experiments to the list in the Student Notebook that would answer questions that plagued her while she was reading the textbook.
About a week into our review, my daughter came into the kitchen one afternoon and asked, " Mommy, I was just reading about how salt chemically bonds to water to make the salt water in the ocean. I was wondering if frozen salt water would float or sink. Can I do an experiment to figure it out instead of one of the others in the book that I understand already?"

And so she designed her experiment, mixed up her salt solution, and poured it into an ice cube tray and left it in the freezer for two days. The best moment was when she brought it out two days later and exclaimed, "Hey! It is still not frozen… why? Oh yes! I remember from chemistry class… cool!"
That is the kind of learning and exploration that this course provides your child. A framework and a guide to learn how to explore their world in a rational manner, while maintaining a mindful eye on the Christian worldview. This course gives your child freedom to explore and the information and tools to guide her. And isn't that really why we homeschool after all?
Second Half of Student Notebook Is A Lab Notebook
There is a Great Section Written Directly To The Student Who Asks – Why Do I Have To Write All This Down?
I especially love the description and explanation of the Lab Notebook section written for students. It answers all the objections homeschooled teens come up with when faced with documenting their learning: If I learned the material and did the work, why do I have to write it down? Why would a college care how detailed my lab report is? Why do I have to draw the animals that I dissect or observe?
Lab Notebook Guides Your Student Through Process of Doing & Analyzing Each Experiment
Each of the modules is a separate section in the lab notebook that begins with clear descriptions of each experiment, which is also covered in the textbook. Each Experiment includes a Purpose, a list of Materials, a Question to answer, a Prompt to create a Hypothesis with that question, and a clear Procedure that includes pictures of equipment setup. Then each experiment in the lab notebook includes a couple of pages with blocked out areas to write the Hypothesis, Observations, a Sketch, the Date (very important for documenting research, and a large section for Discussion and Conclusions.
Final Section in Student Notebook For Creating A Research Poster Allows Your Student To Practice Being a Scientist
This last section in the Student Notebook may seem like the least important and perhaps some students may wish to skip the process of making a presentation poster, but it is the culmination of the entire course and actually one of the most important skills for anyone who may want to be a scientist.
When I was in graduate school, the primary tool for sharing and discussing my doctoral research was through the Presentation Poster. Standing in front of my first poster at a conference defending my research to a crowd of the old guard of scientists in my field of study was perhaps the most terrifying experience I endured as a Biophysicist. If I had been homeschooled and had worked though this Marine Biology Course from Apologia Educational Ministries, I am certain that I could have passed through that rite of passage with much more confidence.
The section in the Student Workbook called "Presenting Your Research: Creating a Presentation Poster" clearly lays out the process with step by step instructions that will easily guide your child through the process of documenting their experiment findings. But more importantly this is the opportunity for your student to stretch her rhetoric-stage thinking skills and broaden the findings into a deeper and more meaningful statement than a simple concluding statement. It is a wonderful opportunity for your child to stretch her adult wings and take a practice flight.
The Student Notebook Is A Wonderful Tool For Students Entering The Rhetoric Stage of Their Education (for those learning with Classical Education methods)
I noticed layers and layers of learning designed into the Student Notebook. The approach seems to start with simple reading comprehension but then your student is guided to putting all the pieces she has learned together to make broader conclusions, and finally she is given an opportunity to stretch her critical thinking skills to practice creating her own ideas. This aspect of the course really makes the Marine Biology 2nd Edition Advantage Set a great course for high schoolers who are learning with Classical Education methods and who are either close to the end of their logic stage or in the rhetoric stage of their education and development.
Even More Learning Aids Available Online
If there is not enough content in the course to satisfy your child's curiosity and enthusiasm, there is a Book Extras section you can access with account information found in the textbook to create your own account and access links to web-based resources that are related to this course. Everything is arranged by module so that information is easy to find. These are links designed to provide help if your student has trouble understanding given topics and also to provide advanced enrichment material for enthusiastic children.
The Course Design Is Uniquely Flexible
On of the aspects I most love about Apologia Educational Ministries products is the care and thought that goes into the presentation of content and the framework for each of their products that makes them completely flexible.
Materials Are Dyslexia – Friendly
My daughter is dyslexic and has issues reading many text books due in large part to the chosen font and page design. This text book is so well laid out from seemingly trivial things like the choice of font and font size, to the spacing of both lines and sidebars in the text. Nearly every advanced course my daughter works through gives her so much trouble that I usually read it aloud to her.
And yet, the Marine Biology 2nd Edition Advantage Set from Apologia Educational Ministries is a book she can read and learn from all by herself.
This Course Has Been An Opportunity To Learn Marine Biology, But More Importantly A Chance To Discover That She Can Learn Without Special Education Aids
For my daughter, learning marine biology using this course went far beyond simply learning the course material. This was the first high school level course she was able to learn completely on her own. The key really was just the word choices the author made, keeping the text direct and focused on objects and concrete ideas and not vague descriptive language. But also Apologia Educational Ministries' choice of font and page layout was a critical component that made this book accessible to my daughter.
My daughter absolutely loves marine life and the mystery and wonder of the ocean and the quality and dyslexia-friendly nature of this course has deepened her understanding of marine biology and increased her self-confidence.
Want to read other great reviews of this fantastic marine biology course for homeschooled high schoolers? Click on over to…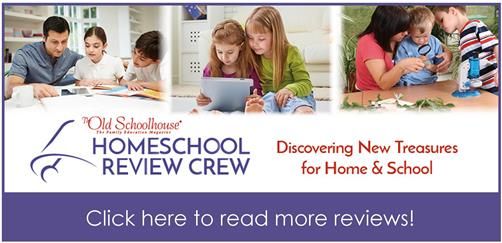 Feel Free to Share with Your Friends!