I have the hardest time following Shakespeare, and so I was very happy to have the opportunity for my children (and I) to review the Macbeth E-Guide from Progeny Press. My kids, on the other hand love Shakespeare's plays and sonnets. And so one of the hardest part of homeschooling, for me, is guiding them through the Shakespeare plays.
Will It Enhance Your Homeschool?
Absolutely! Even if you were an English Lit. major in college who specialized in Shakespeare's works, this literature guide provides extra bits you might not think to include when teaching your kids.
My children learned a lot from this study guide, even though they already have read Macbeth. There were new literary terms, there were new ways of thinking about the relationship between Macbeth and the lessons of the Bible, and there was a more complete grounding of the play in the historical context surrounding Shakespeare.
What Comes With This Product?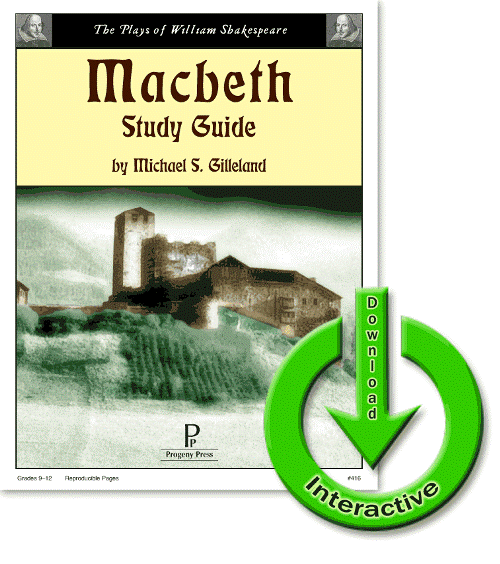 The Macbeth E-Guide comes as two PDF files that you download from Progeny Press' store: The Interactive Study Guide, and an Answer Key.
Macbeth Study Guide
The guide is written for you, the instructor, as well as for your high schooler. It begins with a special note for you , laying out different ways to teach using the guide, testing options, and pacing and course credit suggestions.
Pacing & Credit Suggestions
The course is designed to take roughly 8-10 weeks, working through one section per week. The course is flexible so you can assign any number of different activities and writing projects to expand and enhance the course. Also, Progeny Press suggests that you assign .25 high school credits to each study guide.
1. Synopsis & Background
The guide also includes a synopsis of the story of Macbeth so that your child (or you) can more easily follow along through the play, as well as background information covering the historical framework for the play and possible reasons that Shakespeare wrote Macbeth.
2. Pre-reading Activities
There are many options you can choose from if you decide to have your homeschooler prepare for reading Macbeth. The options range from selected Bible readings, to researching historical figures and writing a report, to map-work or even watching a documentary.
3. Studying The Play, Act by Act
The study guide suggests that your child read all the way through the play and then go back and study each act separately using the study guide. This makes a lot of sense as your child will get at least two opportunities to study and think about each section of the play.
When your child studies each Act, the study guide begins with a Vocabulary review, followed by a Scrambled Quotation from the Act that helps your child retain and review the material. The study of each act also includes a few General Questions to test reading comprehension followed by Analysis questions that prompt your child to analyze motivations and design. These include focused on the study of the characters in the act, as well as practice analyzing the act's literary devices.
Finally the study guide challenges your child to explore a bigger context of each act of Macbeth with Dig Deeper questions that relate lessons we can find in the Bible to the activities and motivations of characters in Macbeth. You might first think that this section is not important, but in Shakespeare's day everyone knew the stories and lessons and people in the Bible. Allusions to these stories and lessons were commonplace in all writing of the time, especially in Shakespeare's plays. And so studying the connection between the two is all the more important.
Each part of the study guide which focuses on an act from the play ends with an Extra Activities section that provides optional ideas your child can use to expand the course. These range from researching and writing a paper, to doing some art, to acting out the play or hosting a dramatic reading.
4. Overview Helps Your Child Make Sense Of The Entire Play
After your child reads and works her way through each Act in the play and companion section in the study guide, the Overview section provides a set of questions that focus on the big picture. How does Macbeth address the big ideas in the Bible? What happens to the characters throughout the course of the play?
5. Writing Projects To Expand The Course
The next section in the study guide provides an ample list of possible writing projects for your child. There are many, many options to choose from so no matter your child's interest you are sure to find something that really interests her.
6. Additional Resources To Match Every Interest
As if that weren't all enough, the study guide ends with a section that lists other Shakespeare plays, Books about Shakespeare, and specific video productions of Shakespeare plays to choose from.
Macbeth Answer Key
The Answer Key comes as a separate PDF file and includes all the answers to questions in the study guide. Guidance is even given for the questions that could produce a range of answers so that you can easily decide how well your child answered a given question.
Note: The E-Guide does not include the actual Macbeth play written by Shakespeare – this you need to acquire separately. But it is really easy to find Macbeth in the library or even online, so there is no added cost here.
How We Liked It & How We Used It
When my children find something they really like, they savor it. They move through it slowly and carefully and try to get maximum use out of it.
That was the case with the Macbeth E-guide.
I have twin 9th graders who have already read Macbeth. They love the play and so they decided that we would work through it together as a dramatic reading. So every afternoon we get together in the living room to read a section together aloud. We pick parts, well actually my kids pick the parts, and assign me whatever is left over. And then we act it out.
When we finish reading, I spend a bit of time talking through the vocabulary and discussing the ideas in the study guide with my children. They are both aural learners and this way leads to them retaining the information best. They still write the essays, we just do the questions together and turn them into a discussion opportunity.
This is a fantastic product that is so very flexible an allows you to design a high school-level (or advanced middle school) course that fits snugly into your homeschool.
Other Study Guides Reviewed By Moms in the Homeschool Review Crew:
The E-Guide that we reviewed in our homeschool was written for high schoolers or advanced middle schoolers. Progeny press has options for any age homeschooler and so the great moms at the Homeschool Review Crew reviewed a number of other options as well including The Bears on Hemlock Mountain E-Guide (Grades 1-3), Charlotte's Web E-Guide (Grades 4-6), and The Silver Chair E-Guide (Grades 5-7). You can read their reviews  by clicking through below.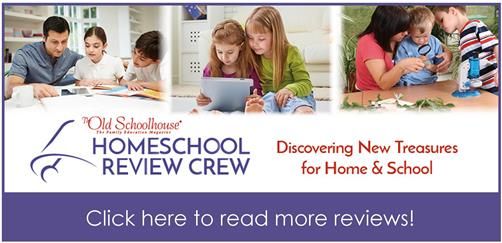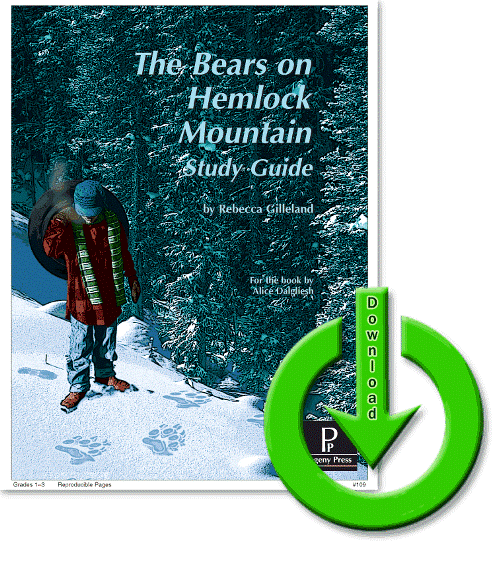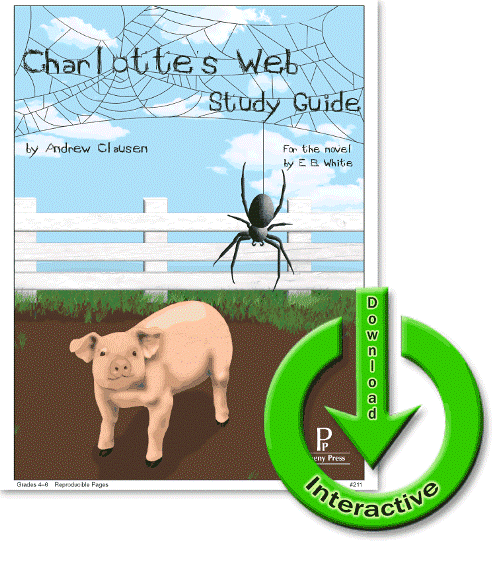 Feel Free to Share with Your Friends!