I was interested to review Is There Anything Better Than Candy? Box-Tract because when I saw the package I realized how many creative ways you can use these little pumpkin boxes from Let the Little Children Come.
Each package comes with 25 sheets of thick, full color, die cut paper. One side is printed with a pumpkin with the words "Is There Anything Better Than Candy?", and the other side has Five thoughts intended for children about God and their faith.
Messages Printed On Each Pumpkin Petal
Front And Back Of Product
The assembly instructions are printed on each sheet and assembly is really, really easy – even for children.
Assembly Instructions
Uses & Applications
The most obvious way to use these easy to assemble pumpkin boxes is as treat boxes on Halloween at parties. You could also make them into a craft activity for children at your church.
My son and I sat down and came up with some other applications for these boxes that I would like to share. I know that there are families who do not celebrate Halloween, but these little pumpkin boxes could be great for any fall occasion, if the messages printed on the pumpkin petals are what you feel comfortable sharing with your children.
1. You could use them on Thanksgiving as table setting markers for the children, or if you like you could use them for the whole family. They make a great conversation started for the young ones at the children's table. In fact the older kids could use them as a teaching moment for younger siblings and cousins while "stuck" at the "kids' table".
2. You could also use these boxes as decoration to hang from the ceiling. At some point, you could let your children peek inside the pumpkins and use them as a way to talk to them about God.
3. You could turn the boxes into a scavenger hunt during the fall season, and hide each clue in one of the assembled pumpkins with a prize of some sort at the end of the scavenger hunt that refers back to the Five messages inside the pumpkin. This activity might be great on a rainy day with your kids or with your kids and their friends on a day when they are visiting.
4. You could even hide small crayons or markers in them and place them in the go-back or the activity bag you bring in the car with your children on long trips. When our kids were little, we traveled by car a lot and when we were on a trip, each child had a small storage pack that hung from the seat back in front of them. I would hide something new in their packs on each day – just a little something like a new crayon or a new pad of paper.
Interested in reading other ideas for these neat little pumpkin boxes?

Click through to the Homeschool Review Crew and read about the ideas that other homeschooling families came up with!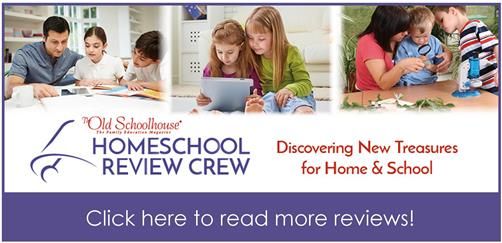 Now, do you celebrate Halloween in your home? What kinds of activities are your family's favorite during fall?
Feel Free to Share with Your Friends!