This is our second week in The Do Not Read Report. The idea behind these posts is to share the books that I really did not want my kids to read. Some of the books I will highlight will be stories that my husband or I pre-read, only to discover the awfulness inside. Others are books that we assumed to be OK after scanning through and then were sadly mistaken.
Today's book is actually a series of awfulness. No matter your feelings on religion, these books are filled with the kind of death and darkness most parents do not want in their children's heads. I really think that it is best that you do not read His Dark Materials with children. Well, actually I would avoid the author completely and absolutely.
THIS WEEK'S BOOK SERIES:
His Dark Materials by Philip Pullman
The Golden Compass (called Northern Lights in the UK), 1995 Carnegie Medal winner
Summary: This is the story of a dark world where the adults who should protect children instead seek to harm them. A young girl (the protagonist, age 12) and her friend survive a lot of awful treatment by adults who are supposed to protect them. The friend is killed brutally.
I strongly suggest that you do not read His Dark Materials with children.
This book series is suggested for ages 10 and up by the publisher and many 5th graders are given this series to read in the classroom as literature.
CONTAINS: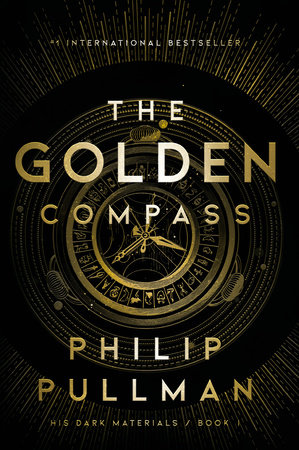 Child Abduction – Secret cult within the Church called the "Gobblers" kidnap children in order to perform experimental surgery on them.
Deaths – Lots of these, most notably the protagonist's uncle kills her best friend at the end of the first book.
Murder, Mental Illness, Amorality
Trope of despair – The dead best friend becomes one of the many, many captive souls who are released by a witch to float away and be destroyed. The souls are grateful to be annihilated.
Demons – Every person in this world is attached to a demon of their own. If the demon dies, so does the person.
Political Message – Ice caps melting
Retelling of The Book of Genesis – Pullman has said that

the protagonist's sexual awakening, "is exactly what happens in the Garden of Eden … Why the Christian Church has spent 2,000 years condemning this glorious moment, well, that's a mystery. I want to confront that, I suppose, by telling a story that this so-called original sin is anything but. It's the thing that makes us fully human."

Sex – from the UK edition of the third book, the chapter entitled "Marzipan":
"As Mary said that, Lyra felt something strange happen to her body. She found a stirring at the roots of her hair: she found herself breathing faster. She had never been on a roller-coaster, or anything like one, but if she had, she would have recognised the sensations in her breast: they were exciting and frightening at the same time, and she had not the slightest idea why. The sensation continued, and deepened, and changed, as more parts of her body found themselves affected too. She felt as if she had been handed the key to a great house she hadn't known was there, a house that was somehow inside her, and as she turned the key, deep in the darkness of the building she felt other doors opening too, and lights coming on. She sat trembling, hugging her knees, hardly daring to breathe, as Mary went on… "
About the author
Philip Pullman has a web site with lots of information about this and other series he has written. Among the samples from the books I discovered on his site an area with illustrations he made while writing the stories in this series.
---
I PLAN TO HIGHLIGHT AT LEAST ONE BOOK A WEEK IN THE DO NOT READ REPORT. DO YOU HAVE A BOOK YOU WOULD LIKE ME TO HIGHLIGHT NEXT WEEK? IF SO, LET ME KNOW IN THE COMMENTS BELOW.