Devlin Quick is that girl we all wish we could be like: spunky, smart, and insatiably curious. She is always up for a challenge and in this third book in the Devlin Quick Mysteries series, we find Devlin on a paleontology dig in Montana. When her friend Katie finds a rare dinosaur on the dig, the two girls end up in the middle of an adventure that leads them back to Manhattan and eventually to discover the identity of a thief.
Ever wonder what it would be like to be a paleontologist and discover new dinosaurs? Or be a detective and find the thief?

This exciting tale for boys and girls gives the reader a front row seat. You will learn why paleontologists use camel hair mats on digs, and how DNA testing and forensic analysis helps police catch criminals. You will discover the location of Patagonia, and President Theodore Roosevelt's surprising ties to the New York police force and to the American Museum of Natural History. The book highlights so many fantastic facts and opportunities for your child to enhance his or her curiosity.
Note: There is mention in the story of a young woman orphaned as a teen in Moldova who was a victim of human trafficking. Devlin's mother, the policewoman, befriended and aided the young woman a number of years before this story takes place. There are no details in the story about the young woman beyond this.
You could even use this book at home to enhance other studies with your child.
Do you have a child who is interested in criminology, history, geography, or (of course) paleontology and dinosaurs? Digging for Trouble will bring the subject to life.
This Devlin Quick mystery will answer the following questions for your kids:
How do you get an entire nest of fossilized eggs out of the ground, intact?
Who invented the CT Scan and how does it work?
What does 'ovoviviparous' or 'preparator' mean?
Who said that the confession of evil deeds is the beginning of good deeds? (hint: St. Augustine!)
The moral of this mystery:
Keep your wits about you, your thinking cap always firmly on your head, trust your instincts, and then you will solve any mystery that comes your way in life!
This book would be a great one to put on your child's Christmas List!
Interview with The Author: Linda Fairstein
1. How did you get your start writing?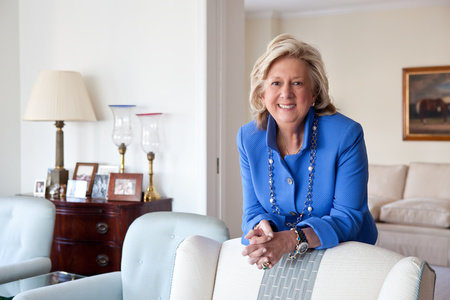 I've loved writing for as long as I can remember. My mother saved the first short story I wrote when I was in the sixth grade – and it was a mystery, of course. Throughout high school – when talking to friends or answering yearbook questions – I would always say that I wanted to be a writer when I 'grew up.' I came to realize that it wasn't a practical way to support myself, so I held onto the dream of becoming an author but went to law school because of my interest in doing public service work.
As a lawyer, I had the opportunity to hone my writing skills every day. All of my trial work as a prosecutor required rigorous periods of intensive writing exercises. About fifteen years into my time running the Special Victims' Unit of the Manhattan DA's Office, a publisher approached me and asked me to write a book about the pioneering work of our unit. After getting the necessary permissions from city officials, that non-fiction volume was published in 1993 and became a New York Times Notable Book of the Year. That got me off and running, and allowed me to fulfill my goal of writing novels. I created my fictional protagonist, Alexandra Cooper, in 1996, and this year brought her back in DEADFALL, the 19th book in her series of crime novels.
2. Did you grow up in Manhattan like Devlin?
I grew up in a small city just outside New York, about twenty minutes from Manhattan. It's called Mount Vernon. I used to go into the city with my mother to visit friends, go Christmas shopping, see a Broadway Show, and go to the Museum of Natural History, which plays such a huge role in DIGGING FOR TROUBLE. Devlin Quick is, on the other hand, very much a city kid. She navigates the subway and knows her away around town, and it doesn't hurt that her mother is New York's first woman police commissioner.
3. Your mystery is filled with wonderful technical details about paleontology! If your readers get excited about the field, where can they look to learn more about being a paleontologist?
Paleontology is a pretty exciting field. New fossil discoveries are made regularly, and the science is being updated constantly. Most large cities have natural history museums with some sort of dinosaur exhibits and information. We're fortunate to have the great AMNH in Manhattan, and there is a wonderful museum in Bozeman, MT, right near the spot where Dev and Katie made their finds in DIGGING FOR TROUBLE – the Montana Badlands!
Next stop would be the public library, wherever you are. There are scores and scores of books written about this field, as well as a good amount of online information which leads to books by experts in the field. It's all quite fascinating. Learn more about it and sign up for a dig!
4. Can you tell us where Devlin is headed in her next book?
Devlin's next caper is called SECRETS FROM THE DEEP, and it's set in the beach resort of Martha's Vineyard, where Dev is vacationing with her friend, Booker Dibble. She's doing a science project for her fall class when she and her friends come across an astounding piece of treasure. They are all going to learn bit about DNA in this one, too, as they race to solve another mystery.
About the Author
Linda Fairstein was chief of the Sex Crimes Unit of the district attorney's office in Manhattan for more than two decades and is America's foremost legal expert on sexual assault and domestic violence. Her Alexandra Cooper novels are international bestsellers and have been translated into more than a dozen languages. She lives in Manhattan and on Martha's Vineyard.
Book Summary From The Publisher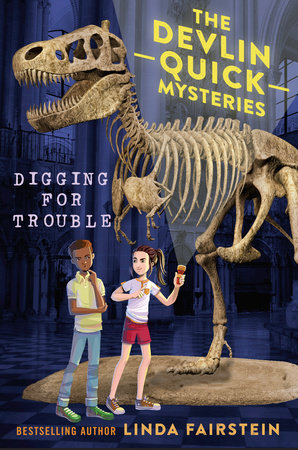 Twelve-year-old supersleuth Devlin Quick heads to Montana to dig out dinosaur bones, but instead she uncovers a mystery in this second book in the thrilling series from New York Times bestselling author Linda Fairstein
After successfully apprehending a map thief at the beginning of summer, Dev is going to spend the second half of her summer vacation in Montana with her best friend, Katie, exploring the outdoors and NOT getting into trouble. But after participating in a dinosaur dig, Katie and Dev suspect that someone bad is in the Badlands when Katie's found fossils are switched out for old rocks. The good news? With Mom back in New York, no one can stop Devlin from investigating! But the fossil thief isn't the only danger here, as snakes, scorpions, and bears abound, making Montana a treacherous place for finding answers.
And when the mystery takes Dev and Katie back to Manhattan—to the Museum of Natural History—the case gets even more complicated, even with Dev's friend Booker there to help. Dev has to use her brains, brawn, and yes, okay, the lessons learned from her police commissioner mother if she wants to dig up the truth once and for all. This is the perfect read for fans of Nancy Drew and Theodore Boone.
Book Details
Recommended Age Range: 10 years and up (but teens and adults will love it too!)
336 pages
Publisher: Dial Books
Published on November 7, 2017
ISBN-10: 0399186468
ISBN-13: 978-0399186462
List price: $16.99